INCORRECT NEEDLE COUNT, PATIENT DISCLOSURE AND MRI RISK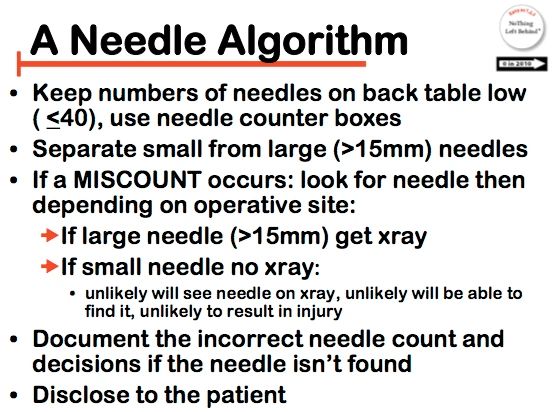 If at the end of an operation, a small (<15mm) needle is missing in a large body cavity (e.g. chest) and a thorough search has been made but the needle has not been found, the needle count in the operative record should be recorded as incorrect. It is good practice to document in the operative report any and all actions taken in the setting of the incorrect count. Another action is to disclose to the patient the fact that a small needle was missing. Ethically this is sound because missing a needle is not an anticipated outcome of the operation and actions were taken in the OR to look for the needle but it is not known with certainty where the missing needle is. If intraoperative Xrays identify the needle, it is a clinical decision whether or not to remove it. It may be that removal may not be possible or cause more harm than leaving the needle alone. If the needle is "found" but not removed the final count is recorded as incorrect and it is good practice to disclose to the patient that the needle is inside of them. It is useful to show the patient what the missing needle looks like and discuss why it is unlikely to cause harm. Surgical metal clips and staples of larger sizes are used routinely and remain in patients. If there remains any question or uncertainty about the needle's whereabouts, a CT scan may be obtained. CT scans can identify needles of any size. Disclosure around the time of the operation is a good strategy because many patients have a CT scan sometime in their future. It is better to hear about a retained needle from the surgeon rather than months or years later if the patient has a CT scan for some other reason and is told there is a needle inside of them of which they had no prior knowledge.
With regards to leaving a small needle in a large space and the patient undergoing a MRI there should be no danger with these small needles. Concerns with metallic objects in MRI are related to the heat generation in the magnetic field and is a danger related to the length of the object. Another concern is the question of wobble or movement of the object but after objects have been in spaces for a time they develop a fibrous reaction which prevents them from moving (and in the case of guidewires in the heart this fibrous reaction can also hinder complete removal of the wire because it becomes adherent to the heart tissue). A small needle in a small or sensitive space, such as the eye might however be a cause of concern in MRI.