Here is the newly revised NoThing Left Behind® Prevention of RSI Policy/Job Aid/Reference Manual. It has new ideas and practices (e.g. practices for the Emergency Department and multi-stakeholder guidelines for the prevention of retained guidewires) to help any healthcare facility provide a safe procedural experience for every patient.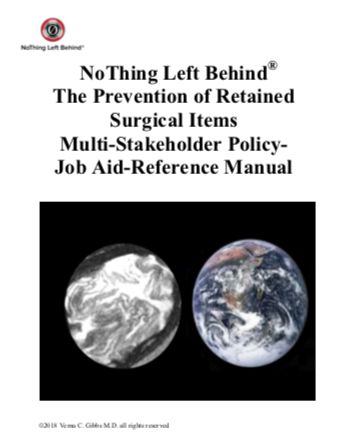 What is a retained surgical item?
The exact wording from state based Never Event reporting statues are usually something like:

Retention of a foreign object in a patient after surgery or other procedure, excluding objects intentionally implanted as part of a planned intervention and objects present prior to surgery that are intentionally retained.
(California's Health and Safety Code 1279.1)

Retained Surgical Item (RSI) is the preferred term rather than retained foreign body or object or uRFO. Foreign objects include swallowed pennies, pins, shrapnel, bullets and other objects while surgical items are the tools and materiel that we use in procedures to heal not to harm. Retained surgical items are a surgical patient safety problem.

An alternative definition of an RSI is:
A surgical item that was not intended to remain in a patient, is found in any part of the patient's body
after an operation, procedure or vaginal birth ends.

Notice that both definitions say that a surgical item is retained if found in the patient "after surgery" or "after the operation, procedure or vaginal birth ends" So when is this?

In 2011 the National Quality Forum reviewed all Serious Reportable Events (SREs) and explains the definition of when it is after surgery and all the SREs including unintended retention of a surgical item.
The directive excludes reporting of unremovable items intentionally left at the judgement of the clinician and defines when it is after surgery - The operation ends:
1) after all incisions or procedural access routes have been closed in their entirety
2) devices have been removed and, if relevant,
3) final surgical counts have concluded and
4) the patient has been taken from the operating/ procedure room.

A procedure ends when all devices and equipment have been removed from the patient regardless of setting (e.g. post anesthesia recovery unit, cath lab, emergency room, radiology suite, endoscopy unit)

From a NoThing Left Behind® OB/GYN consensus group:
A spontaneous vaginal birth ends after the mother's immediate recovery period (2 hours post birth of the fetus). This period is also referred to as the fourth stage of labor which lasts about 2 hours after the birth.

So it is much clearer now, a surgical item isn't considered to be retained unless it is found to be within the patient after all devices have been removed, or the birth ends or the patient is out of the OR; except it isn't..... because The Joint Commission has a different interpretation of when surgery ends. TJC thinks that after surgery is any time after completion of the skin closure, even if the patient is still in the operating room under anesthesia. The Sentinel event definition is here. They also call the sentinel event a uRFO - unintended retained foreign object. TJC does reference back to requirement EP 7: The leaders define "sentinel event" and communicate this definition throughout the organization" in the October 2013 sentinel event alert on RSI where they don't specifically speak to the definition. Many organizations and healthcare entities follow the NQF as the federal regulatory guide. Therefore, the use of the NQF definition of when an item is retained should stand all healthcare entities in good stead, unless there is some specific stipulation that TJC definition must be used.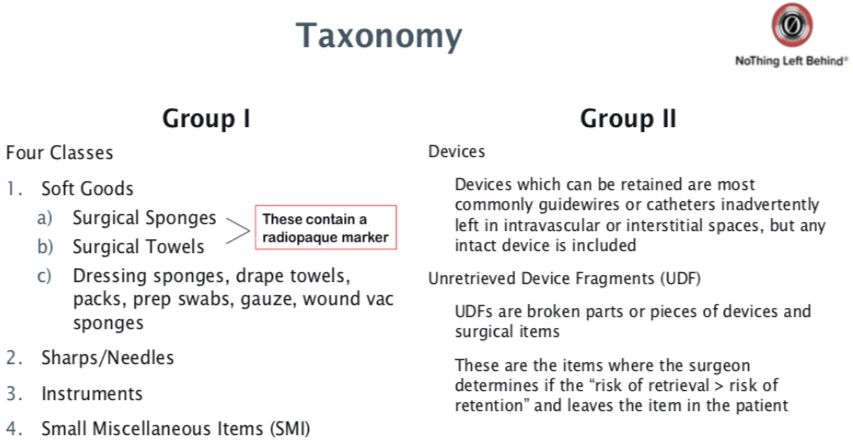 We have developed a taxonomy of retained surgical items and placed them into two groups; Group I is familiar to OR staff as items that are usually "counted" <except items in c) which are drapes or dressings and are not part of the surgical soft goods count>. These are soft goods, sharps, instruments and small miscellaneous items. Group II consist of devices, which are essentially any piece of equipment or tool that has a designated function used during a procedure and device fragments which are broken parts or pieces of a tool or device. If the surgeon makes a clinical decision that a device fragment cannot or will not be retrieved, this is called an unretrieved device fragment or UDF.
Everyone wants to know how many cases there are per year. Really good data is hard to come by because data acquisition is dependent on reporting. PSRO's use the data they receive and for feedback and quality improvement to their member organizations. There are some good state based reporting systems (Pennsylvania, Minnesota, New York, California) that collect and periodically report RSI case incidence. On a more granular level very few hospitals want to broadcast the frequency of RSI cases that have occurred in their facilities. Maybe there are about 2000 - 4000 cases a year? It's safe to say it's > zero and depends on what type of surgical item we are talking about.

The most frequently retained surgical item that causes patient harm, is the cotton gauze surgical sponge that is available in a number of different sizes. Most reports of retained sponges refer to the 4"x4" raytex (an acronym we have coined to refer to a radiopaque textile) or the 18"x18" laparotomy pad. There have also been cases of retained OR towels. The most common sites are the abdomen/pelvis, the vagina and then the chest, although
sponges have been retained in surgical wounds of every size and after almost any operation
. Increased appreciation has occurred around the problem of retained vaginal sponges and miscellaneous items left behind after spontaneous vaginal births as well as elective gynecological operative cases. This has led to efforts to move better safety and preventive strategies to labor and delivery areas in addition to the OR and other procedural areas.

With retained sponges under better control, we are seeing
increased reports of retained small miscellaneous items, devices and unretrieved device fragments.

These include intact but separated parts of surgical items, some of which are not radiopaque, broken pieces of instruments, small needles, trocars, guidewires and sheaths. These events occur in the OR and throughout the hospital and involve a wide variety of procedural items and an expanded list of provider stakeholders. The preventive strategies for these types of items are not applicable only to the OR since retained guidewires, sheaths and catheters are found after interventional vascular, cardiac and radiological procedures. Various types of providers now must develop standardized processes to account for all of the tools and parts of devices. Practices originating in the OR can be shared with these other clinical groups to help prevent retention and speed accountability.